Our Team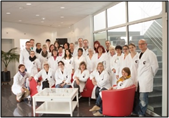 Dr. Klaus Weber
PhD, DVM, M.Sc. Biol., Toxicologic Pathologist, Diplomate JSTP
With more than 30 years professional experience, he started his career as DVM and later MS (biologist) at AWD Germed in East Germany, trained in human pathology in 1989/1990, before leaving in 1991 to join RCC Ltd Switzerland as a toxicologic pathologist. From 1992 onwards was Head of Pathology at RCC Ltd/Global Director Pathology Harlan Laboratories Ltd and from 1997 onwards as CSO of Harlan Inc. He joined AnaPath GmbH in 2005.
He is experienced in all laboratory species, including birds, fish and invertebrates, from short-term, long-term and oncogenicity studies with specialties in neuropathology, inhalation pathology, sperm and ovary staging and bone marrow evaluation.
MAS Katrin Weber
Engineer for Medical/Morphological Conservation Techniques, Anatomist
She has more than 25 years professional experience. She started her career in human anatomy in 1990 at the Institute of Anatomy, Medizinische Akademie Dresden, Germany before leaving in 1992 to the Institute of Anatomy, University Bern, Switzerland and became in 2001 an independent consultant/teacher for anatomy. She founded AnaPath GmbH, Switzerland in 2005. In 2019 she completed further training as a Master of Advance Studies FHO in Information Science: museum work, archive and medical collections.
Dr. Robert Kreutzer
DVM, PhD, FTA Pathology
Pathologist with more than 20 years professional experience in academia and pharmaceutic industry. After graduation form the Faculty of Veterinary Medicine Bucharest Romania he started his career at the Institute for Diagnosis Animal Health in Bucharest Romania as DVM (Veterinary Specialist in Laboratory Diagnosis) and then worked as research scientist / molecular and veterinary pathologist at the Institute for Veterinary-Pathology, Justus-Liebig University Giessen Germany, at the Department of Pathology University of Veterinary Medicine, Hannover Germany and further as molecular and discovery pathologist at Novartis Pharma AG, Basel, Switzerland. He is holding a Dr. med. vet. title in Molecular Veterinary Medicine awarded with summa cum laude by the Justus Liebig University Giessen, Germany and the Graduate College "Veterinary Molecular Medicine" Giessen Germany and a PhD title in Pathology (molecular neuropathology) awarded by the University of Veterinary Medicine, Hannover Germany and the Center for Systems Neuroscience Hannover Germany. Robert Kreutzer is experienced in molecular and discovery pathology (i.e. evaluation of animal models), Neuroscience, Oncology and in advanced microscopy approaches (i.e. TEM, multispectral and confocal microscopy).
Dr. Tanja Razinger
DVM, Veterinary Pathologist
She started her career at the School of Veterinary Medicine, University of Zurich, Switzerland and worked as pathologist at the Institute of Veterinary Pathology, University of Zurich before joining RCC Ltd Switzerland/Harlan Laboratories Ltd in 2006 as a toxicologic pathologist.
She joined AnaPath GmbH in 2011. She is experienced in rodents and non-rodents in short-term and long-term studies.
Dr. Yoshimasa Okazaki
DVM, PhD, Toxicologic Pathologist, Diplomate JSTP, Diplomate JCVP
Yoshimasa started his career as toxicologic pathologist in 1989 at the pharmaceutical company in Japan, Dainippon Pharmaceutical Co. Ltd., after graduating from the Faculty of Veterinary Sciences of Miyazaki University, Japan. From 1994 onwards, he gained experience in the field of toxicology and toxicologic pathology at "Astellas Pharma Inc." and at the non-clinical Contract Research Organizations "Mitsubishi Chemical Safety Institute Ltd.", "Harlan Laboratories Ltd.", and the "Institute of Environmental Toxicology (IET)".
Yoshimasa Okazaki returned to AnaPath GmbH in 2019 as toxicologic pathologist with more than 25 years of experience in rodents and non-rodents in short-term, long-term and oncogenicity studies. His specialty is in cardiovascular pathology and neurotoxicology.
Dr. Jürgen Laufs
With over 30 years experience in life science, Jürgen has a broad scientific background from drug target discovery to pre-clinical safety assessment. As Program Manager for the former Harlan Ltd (Switzerland) he managed over 35 Phase I enabling safety packages, before being appointed as Strategic Alliance Manager for major clients. Based on his cross-functional experience he manages the Safety Alliance at AnaPath and takes care of commercial business aspects.
Susanne Paepke
In 2002, she started her career as a laboratory technician in the pathology department of Harlan Laboratories Ltd. From 2013 onwards she moved to AnaPath GmbH in the same position and took over the responsibility of the principal investigator for histology and the organization of the laboratory, one year later. After this many years of experience in the GLP environment and the organization of the histology laboratory, Susanne moved to the position of Test Facility Manager in October 2016.
Ing. BioMed. Nils Warfving
Nils is currently managing Special Technologies, Medical Devices and IT at AnaPath. Coming from the engineering disciplines, but with a lifelong passion for life science, Nils brings new perspectives to solve unusual challenges outside the scope of routine histopathology. He maintains and overviews the IT systems and is currently involved in the set-up of a new LIMAS system. In the sector of Medical Devices he is leading both the commercial aspects and the study project management. Additionally, Nils is overviewing AnaPath's internal and outsourced Special Technologies projects. At present, the capabilities of advanced artificial intelligence image analysis software is being explored and increased; opening up new possibilities for quantitative data evaluation at AnaPath.
Abdallah Ben Abdeljelil Dipl. Biol.
Ben Abdeljelil has university degrees in Biology and Biotechnology. He has more than 20 years of experience in pre-clinical CROs (e.g., Harlan Laboratories) where he held positions as study director, team leader, and fetal pathologist. He has deep experience in the areas of reproductive toxicology, cytotoxicity, genotoxicity, and molecular target localization and characterization. At AnaPath, in his role as principal investigator / study director, Ben Abdeljelil provides scientific support to client's projects. Ben Abdeljelil is our fetal pathologist and leads the immunohistochemistry/TCR laboratory.
Dr. Roman Schönauer
He is a cell biologist with a doctoral degree from ETH Zürich and more than 15 years of experience in biomedical research. After his PhD in the field of muscle proteins, he moved on as a postdoctoral fellow to University Hospital Zürich (Cardiovascular Surgery Research), where he focused on cellular/molecular alterations in cardiomyopathies as well as on cardiovascular tissue engineering. Starting in 2011, he was a senior postdoctoral fellow at the Institute of Anatomy, University of Bern, where he analyzed the role of several factors on membrane repair in human cells. He has broad experience in cell and molecular biological research, immunohistochemistry, advanced microscopical techniques, and image analysis. As principal investigator for studies in the field of immunohistochemistry and special technologies, he provides valuable scientific support to our clients. He joined AnaPath in 2018.
Nina Häuselmann
After solid laboratory bench experience in the Swiss pharmaceutical industry, Nina moved into the field of Quality Assurance. In 2005, she took over responsibility for QA at Harlan Laboratories Ltd. (formerly RCC Ltd.) in Switzerland. Later, Nina founded the Häuselmann Consulting GmbH and today Nina serves with her team as external QA provider to AnaPath which also houses their offices. In addition, she provides independent QA auditors and consultants to support international clients.
Dr. Aléthéa Liens
Aléthéa has a master's degree in Materials Science and Engineering with a PhD in dental implantology materials from The National Institute of Applied Sciences (INSA) of Lyon, France. Her PhD was realized in close collaboration with a dental implant company for which she worked closely for five years. Her research mainly focused on the development and characterization of innovative materials for dental applications. After finishing her PhD, Aléthéa worked as a pre-clinical and translational research scientist in one of the leading dental implant companies on the market. Aléthéa has strong and extensive expertise in metallurgy, mainly in biomedical grade titanium alloys and metallic glasses; advanced ceramics including zirconia; mechanical testing; dental implantology; dentistry; osseointegration of bone; pre-clinical evaluation; and characterization techniques, such as TEM, SEM, EDX, XRD or EBSD. Aléthéa works as a principal investigator and project manager in the Special Technologies and Medical Devices Department at AnaPath since August 2020 supporting, implementing, and conducting complex investigations.
Dr. Olivia Richard DVM, Veterinary Pathologist, Diplomate ECVP
Olivia studied veterinary medicine at the University of Bern in Switzerland. After her studies, she earned her doctoral degree in the field of vaccine testing and optimization at the Institute of Animal Pathology (ITPA), Vetsuisse Faculty at the University of Bern. Based on her work, the recommended vaccination schema against Clostridium perfringens type C was optimized.
Olivia completed the residency program of the European College of Veterinary Pathology (ECVP) at the ITPA under the guidance of Prof. Horst Posthaus and Prof. Sven Rottenberg. In the residency program, Olivia focused on diagnostic necropsies and biopsies of companion animals, farm animals and wildlife.
Olivia joined AnaPath as a toxicologic pathologist in 2021.
Dr. Pranitha Kamat Ebert
Pranitha holds a PhD in biomedical research from the University of Bern and has conducted extensive research on vascular pathology, largely in the context of myocardial infarction and transplantation. She has experience in developing and implementing protocols for several molecular pathology techniques. At AnaPath, Pranitha is part of the immunohistochemistry team as principal investigator. With an active interest in science communication, Pranitha also supports communication and marketing for AnaPath.
ABOUT ANAPATH
AnaPath Services Is a Swiss-based contract laboratory specializing in histopathology services. Based in the heart of Europe, close to the pharmaceutical capital Basel, we are your first stop for any toxicological or molecular pathology needs.