Immunohistochemistry (IHC)
We at AnaPath are well equipped for immunohistochemistry services that will provide you with optimal staining results. Either the automated staining with our Leica BOND-III systems or manual staining by our experienced technicians, both will ensure reliable and consistent results on your fresh frozen or FFPE samples. Our team of IHC specialists will validate and establish staining protocols for your required targets on a panel of various species (e.g. mouse, rat, rabbit, monkey, human, cat, guinea pig, frog or dog; see Figures 1-3). Based on our extensive experience with method development we can work out efficient protocols for your markers and conduct studies under GLP and non-GLP.
>>> See list of validated antibodies >>>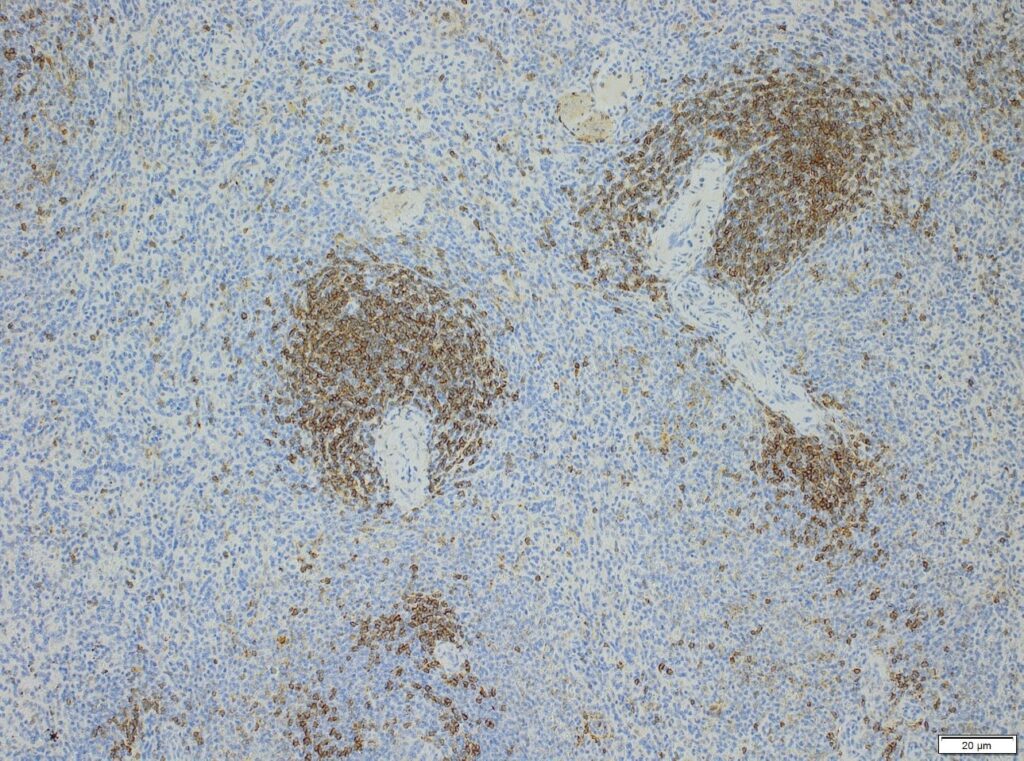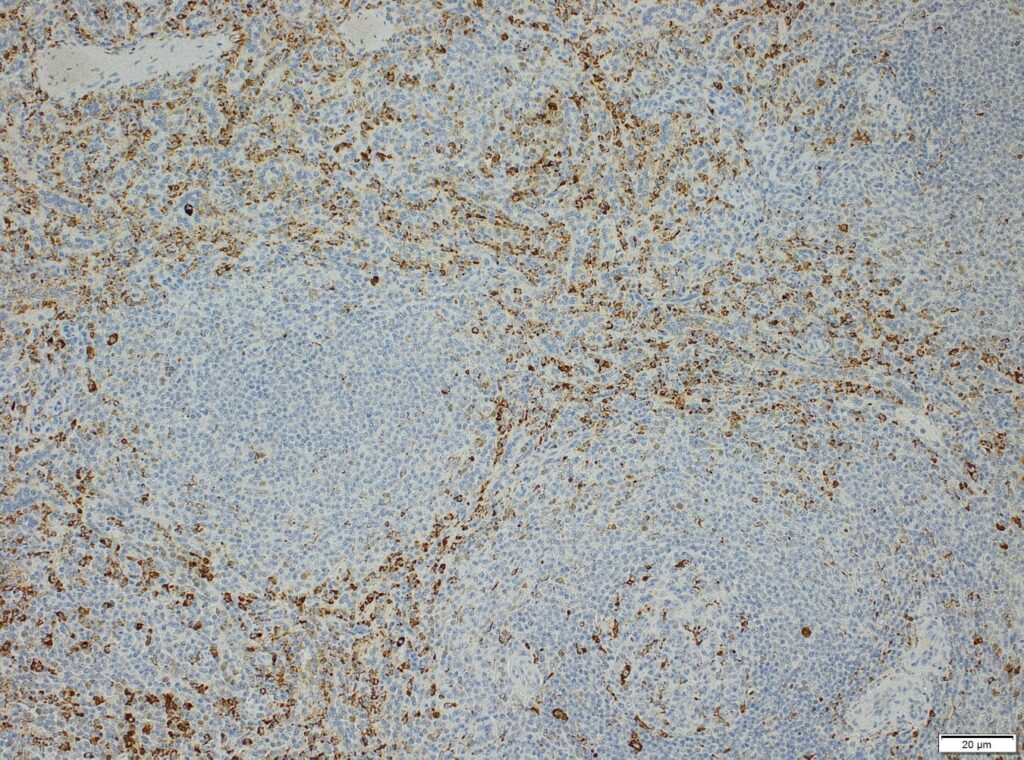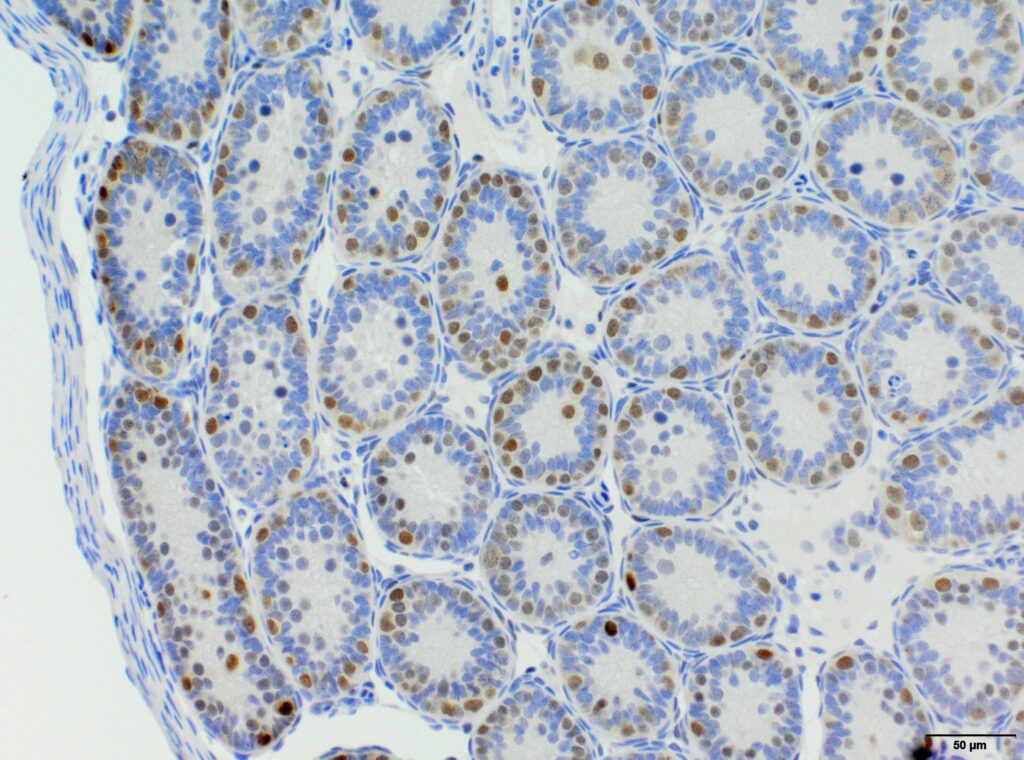 Semi-quantitative evaluation by our board-certified pathologists and quantitative measurements supported by image analysis software tools (e.g. absolute or relative areas, particle analysis, quantification of cell types and structures) will supply you with data of the expected precision. Together we can find the best solution to provide you with an optimal staining result. For further information please contact our team via info@anapath.ch
Immunofluorescence
For the analysis of co-expression and colocalization of several targets we recommend the application of multiplex immunofluorescence stainings. This method is especially well suited for the characterization of immune cells and to identify different cell populations within a certain tissue. Our scientists, experienced in immunofluorescence method development, will discuss with you the optimal strategy for your study.
Our company is well equipped with an Olympus VS200 slide scanner, which allows us to scan fluorescent signals of all commonly used labels (DAPI, FITC/GFP, Cy3 and Cy5), and to create the respective overlay scan image (see Figures 4 and 5). Please contact our team – specialized in image analysis – to get more information about the further evaluation of these images.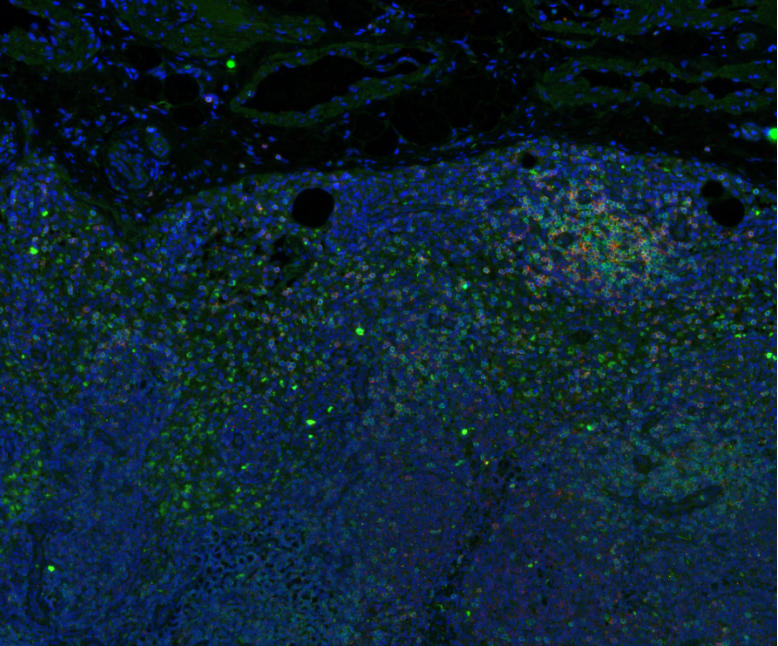 Tissue Cross-Reactivity (TCR) Analysis
AnaPath offers GLP compliant tissue cross-reactivity analysis on human tissue panels following FDA and EMA requirements. TCR screening studies are essential for preclinical safety assessment and marketing authorisation application of monoclonal therapeutic antibodies and antibody-like molecules. In addition, TCR studies on tissue panels of animal organs might help to understand similarities and differences of drug target localization and expression between species and to select the best suited animal model for preclinical studies.
>>> See panels of tissues for different species >>>
Please contact us to discuss in detail the technical options, how to conduct the method development and the TCR study with the test item of your interest in the most appropriate way. Method development and the execution of the TCR main study will be supervised by our scientists, experienced in IHC and with diverse molecules including bispecific antibodies, nanobodies, antibody-cytokine fusion proteins and peptides.
To guarantee tissue panels of highest quality, the tissue integrity of all samples is evaluated by a pathologist before the start of the TCR study. The Leica BOND-III automated staining systems, managed by our experienced technicians, secure reliable and consistent staining results.