We will help you see the unseeable
Have you ever wondered what lies beyond the optical limitations of light microscopy? Our experts at AnaPath Services GmbH are very happy to help you visualize even the smallest details of your sample using the power of electron microscopy. We offer a full package including sample preparation, imaging, image analysis and evaluation from our highly trained pathologists.
We have expertise on evaluating:
Medical devices
Viruses
Tissues
Bacteria
Organelles
And more
Do not hesitate to contact us in case you want to know more about our SEM or TEM services.

Electron microscopy
An electron microscope uses a beam of accelerated electrons for imaging. Since the wavelength of electrons is much shorter than that of visible light, it results in a much higher imaging resolution in electron microscope compared to the light microscope.
AnaPath offers two types of electron microscopy services: Scanning Electron Microscopy (SEM) and Transmission Electron Microscopy (TEM) both equipped with Energy Dispersive X-Ray Spectrometer (EDS/EDX).
The SEM uses an electron beam with lower acceleration voltage that scans the surface of the sample to create a 3D image of its microstructure. Thus, in the SEM, the sample thickness is limited only by the chamber size. In contrast, in the TEM the beam penetrated the sample limiting its thickness (ultrathin sections). As a result, the ultrastructure becomes visible. Detecting transmitted electrons also means that the beam acceleration voltage, therefore also the resolution, of the TEM is usually higher compared to the SEM.
We offer sample preparation, microscopy imaging, image analysis and quantification. Each of these services are offered in combination with our classical histology processing and evaluation by experienced pathologists.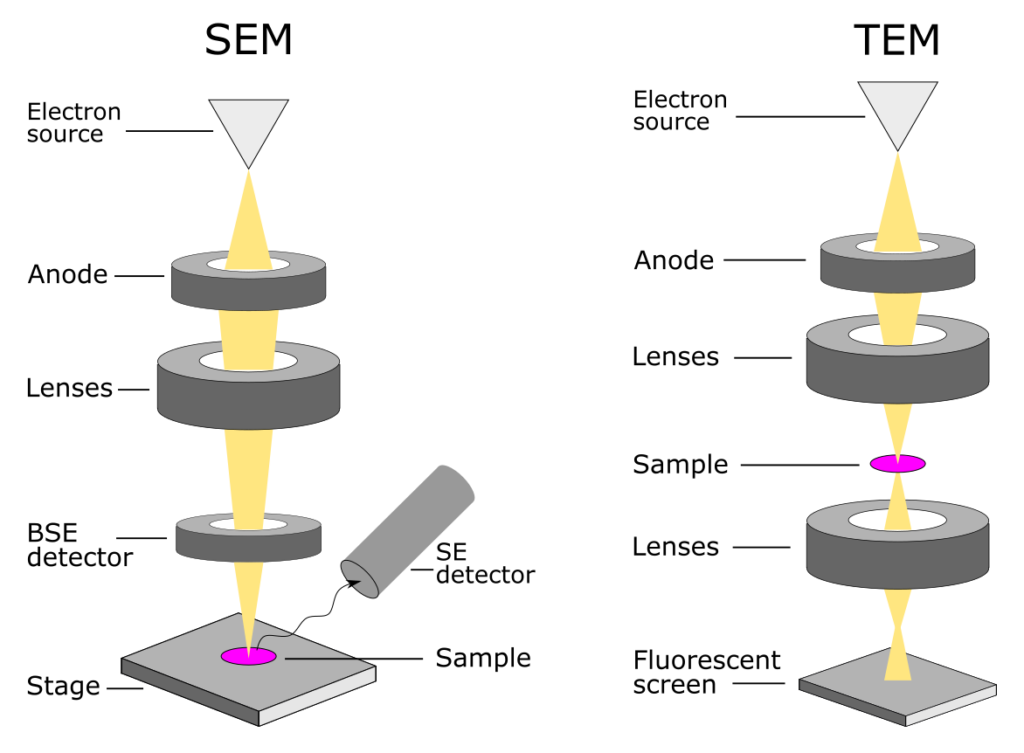 Energy Dispersive X-Ray Spectrometer (EDS/EDX)
Both of our electron microscopes are equipped with an Energy Dispersive X-Ray Spectrometer. It is a powerful tool for investigating the chemical composition of the sample. Every element emits an X-ray with a specific wavelength "fingerprint" that can be detected and analyzed. It allows us to map elements over the sample area with an atomic resolution.