News
August 2019: Klaus′ latest publication is online
Pardo, I.; WEBER, K.; Cramer, S.; Krinke, G.; Butt, M.; Sharma, A. and Bolon, B.: Atlas of Normal Microanatomy, Procedural and Processing Artifacts, Common Background Findings, and Neurotoxic Lesions in the Peripheral Nervous System of Laboratory Animals. (Toxicol Pathol. 2019)
August 2019: We are hiring a Junior BD/Proposal Manager!
Click on the link to find a detailed job description: Junior- Business Development Manager, Proposal Manager, Marketing and Administrative Support in Commercial Services
July 2019: We offer qPCR analysis!
AnaPath is offering real-time PCR (qPCR) analysis using CE/IVD-certified  instruments, thus adding molecular biology amongst the long list of expertise of the company.
June 2019: Eurostars grants project funding for personalized ovarian cancer therapy selection – 3D SELECT
A total grant sum of EUR 3.47 million has been awarded to a multidisciplinary project, named '3D SELECT'. The European consortium consist of six collaborating partners: VitroScan, Anapath, FHNW, Uppsala University, Oncodia, and Robovision. The project uniquely combines expertise in 3D culturing, pathology, genomics, proteomics and AI to accelerate the development of the 3D-SELECT platform to analyse drug response on small tumour biopsies from individual patients and identify most efficacious treatment.
May 2019: We are hiring!
Practical IT and GLP Computerized System Specialist: https://anapath.ch/job-openings/
March 2019: We train apprentices!
medi has officially accredited us as apprenticing company.
November 2018: The publication on synthetic amorphous silica is online now!
Read the publication here: Publication on SAGE Journals
November 2018: We are hiring again! / Wir verstärken unser Team erneut!
Toxicologic Pathologist, Technician for Necropsies and Histotechnique
For further details, click here or contact us at HR@anapath.ch
November 2018: Nils Krüger and Klaus Weber on Synthetic Amorphous Silica
Together they will contribute to the seminar
"Classic Examples in Toxicologic Pathology XXVI" in February 2019
at University of Veterinary Medicine in Hannover, Germany.
The registration for the seminar starts very soon, do not miss it!
September 2018: Come Listen to our Talks !
Dr. Klaus Weber will present a series of two talks on October 3 rd , 2018
Where: Technologiepark, Hochbergerstrasse 60C, CH-4057 Basel
Room – Charivary – 7 th floor
When: October 3 rd , 2018
15.00 – 18.00 pm
Role of the Study Pathologist (15.00 in English)
For all individuals who are interested in pathology, the impact of pathology in development and safety assessment and those who plan a study involving pathology readouts. Variables Affecting the Interpretation of
Toxicology Studies (16.30 in German)
For all individuals who are involved in the design, conduct and evaluation of in vivo/tox studies.
January 2018: New GLP Certificate Available
The new AnaPath GLP Certificate is available at the Quality Assurance page !
December 2017: New Webpage
AnaPath launches new webpage! Take time and have a look at the new content and design!
November 2016: Additional Partner to the Safety Alliance
AnaPath welcomes LPT to the Safety Alliance network!
For more infromation please visit:

October 2016: Japanese Society of Toxicologic Pathology (JSTP)
The AnaPath GmbH is proud to announce and welcome a new board-certified pathologist in the team:
Klaus Weber, Toxicologic Pathologist, D.V.M, PhD, DJSTP
Yes, Klaus, co-founder of AnaPath GmbH, took the challenge and recently qualified as the 498th board-certified diplomate of the Japanese Society of Toxicologic Pathology (JSTP).
The society has been dealing with the promotion of the scientific field of toxicologic pathology (by annual scientific meetings and publication of the Journal of Toxicologic Pathology), the quality certification of trained toxicologic pathologists (by the board certification system; Diplomate of JSTP) and the continuous education as well as training of not only young fellows but also diplomates (by annual slide conferences and annual education seminars).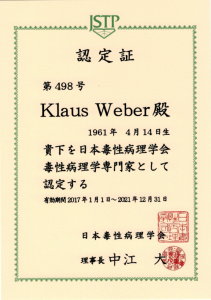 February 2016: 3D Laser Scanning Confocal Microscopy
AnaPath GmbH continuous to advance into the future by integrating advanced interdisciplinary scientific techniques into histopathology. 3D Laser Scanning Confocal Microscopy is the next generation non-contact measuring solution. In the hands of our experience d staff it offers a wide range of possibilities for accurate analyses. We can offer analyses of e.g. blood, sperm and BALF smears, bone and implant surfaces, microspheres, encapsulated polymers, matrix, scaffolds and much more. Please get in touch with us today to discuss how we can support your research: info@anapath.ch
January 2016:Expanding Capabilities in Bio-Implant Testing
AnaPath GmbH is strengthen its capabilities in bio-implant testing through a collaboration with the RMS Foundation.
The RMS Foundation is certified according to SN EN ISO 9001, accredited according to ISO/IEC 17025 and highly competent in testing medical and material technology. RMS broad test portfolio includes individual testing services for materials, implants and medical products: incoming inspection of raw materials, chemical analytics and microstructure investigations, electron microscopy, static and dynamic testing of specimens and products, surface and cleanliness analysis and failure reports. Through discussion customized test designs for e.g. implant stability can be conducted.
Please get in touch with us today to discuss how we can support you.
For more information visit: www.rms-foundation.ch
December 2015: Laser Capture Microdissection
AnaPath GmbH extends the molecular pathology services into Laser Capture Microdissection. Laser Capture Microdissection (LCM) is an automated sample preparation technique that enables isolation of tissue regions or specific cells from a mixed population under microscopic visualization.  At AnaPath we use tissue samples as frozen or FFPE samples for microdissection and can conduct LCM under GLP.  Please get in touch with us today to discuss how we can support your research.